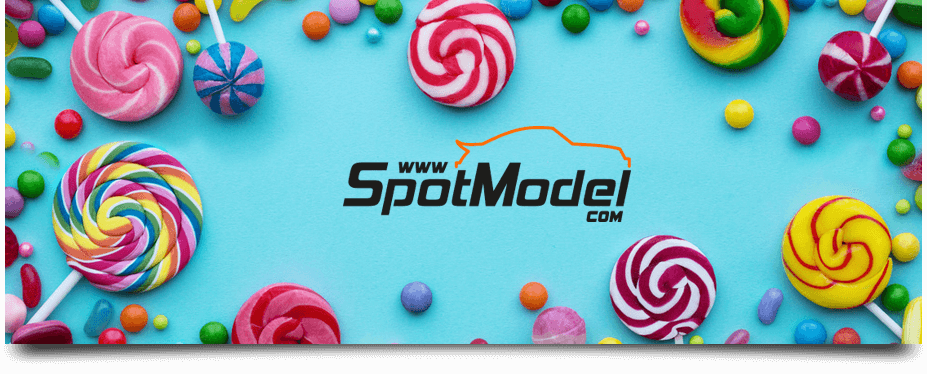 Candy!!!
That's right, this week we bring you a newsletter full of candy. But they are not sweet, nor do they melt in your mouth, nor do they taste like fruit, because they are scale modeling "candy"... but yes, we're still sure that some of you will want a bite of them
For starters,
Nunu
confirms that in a few weeks the long-awaited
Peugeot 306 Maxi
may be on your workbenches. In addition,
Belkits
has already given us an estimated arrival date for the two versions of the
MG Metro 6R4
, and from Japan
Ebbro
confirms that the
Matra MS11
reedition based on the
Tamiya
kit is already on its way. To finish, a very tasty "gummy":
Tamiya
reissues the
Toyota Celica
that performed as the "Pace car" at the USA Long Beach GP in 1983, and announces the upcoming release of the
Honda CBR1000RR-R Fireblade SP
.
Doesn't all that make your mouth water? Well, do not hesitate and book your favorite candies now at
SpotModel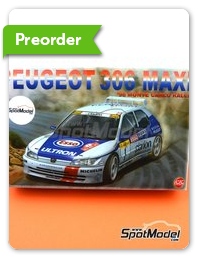 Nunu

: Model car kit 1/24 scale - Peugeot 306 Maxi sponsored by Clarion #1 - Francois Delecour (FR) + Hervé Sauvage (FR) - Monte Carlo Rally - Rallye Automobile de Monte-Carlo 1996 - plastic parts, rubber parts, water slide decals, assembly instructions and painting instructions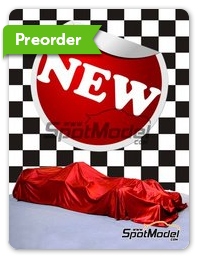 Nunu

: Detail up set 1/24 scale - Peugeot 306 Maxi - photo-etched parts - for Nunu references PN24009 and NU-24009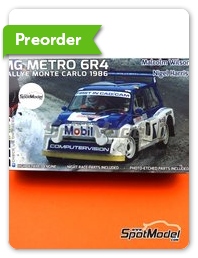 Belkits

: Model car kit 1/24 scale - MG Metro 6R4 Group B sponsored by Computervision - Malcolm Wilson (GB) + Nigel Harris (GB) - Monte Carlo Rally - Rallye Automobile de Monte-Carlo 1986 - plastic parts, rubber parts, water slide decals, assembly instructions and painting instructions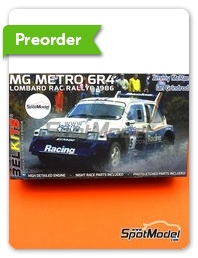 Belkits

: Model car kit 1/24 scale - MG Metro 6R4 Group B sponsored by Rothmans Racing - Jimmy McRae (GB) - Lombard RAC Rally 1986 - plastic parts, rubber parts, water slide decals, assembly instructions and painting instructions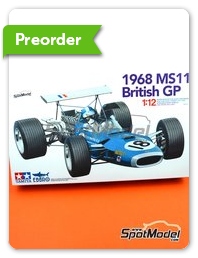 Ebbro

: Model car kit 1/12 scale - Matra MS11 Equipe Matra Team sponsored by ELF #18 - Jean-Pierre Beltoise (FR) - British Formula 1 Grand Prix 1968 - photo-etched parts, plastic parts, rubber parts, water slide decals, assembly instructions and painting instructions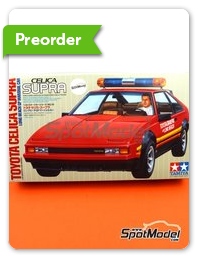 Tamiya

: Model car kit 1/24 scale - Toyota Celica Supra Marshal Car - USA West Long Beach Formula 1 Grand Prix 1983 - plastic parts, rubber parts, water slide decals, assembly instructions and painting instructions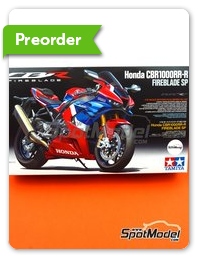 Tamiya

: Model bike kit 1/12 scale - Honda CBR1000RR-R Fireblade SP - Superbike World Championship 2019 - paint masks, plastic parts, rubber parts, water slide decals, other materials and assembly instructions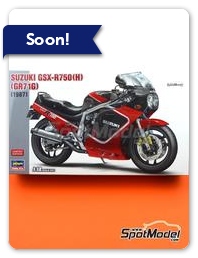 Hasegawa

: Model bike kit 1/12 scale - Suzuki GSX-R750 1987 - plastic parts, rubber parts, water slide decals, assembly instructions and painting instructions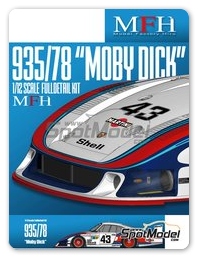 Model Factory Hiro

: Model car kit 1/12 scale - Porsche 935/78 Moby Dick Martini International Racing Team #43 - Manfred Schurti (LI) + Rolf Stommelen (DE) - 24 Hours Le Mans 1978 - CNC metal parts, metal parts, photo-etched parts, resin parts, rubber parts, seatbelt fabric, turned metal parts, vacuum formed parts, water slide decals, white metal parts, other materials, assembly instructions and painting instructions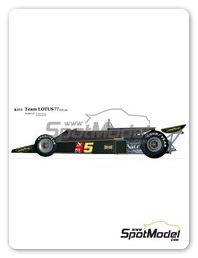 Model Factory Hiro

: Model car kit 1/20 scale - Lotus Ford Type 77 Lotus Team sponsored by John Player Special #5 - Ronnie Peterson (SE) - Brazilian Formula 1 Grand Prix 1976 - photo-etched parts, resin parts, rubber parts, turned metal parts, vacuum formed parts, water slide decals, white metal parts, assembly instructions and painting instructions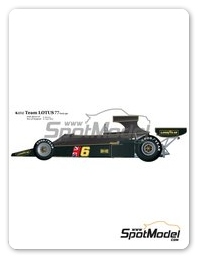 Model Factory Hiro

: Model car kit 1/20 scale - Lotus Ford Type 77 Lotus Team sponsored by John Player Special #5, 6 - Bob Evans (GB) + Gunnar Nilsson (SE) - South African Formula 1 Grand Prix, ROC - Race of the Champions 1976 - photo-etched parts, resin parts, rubber parts, turned metal parts, vacuum formed parts, water slide decals, white metal parts, assembly instructions and painting instructions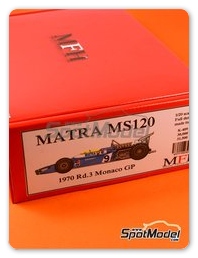 Model Factory Hiro

: Model car kit 1/20 scale - Matra MS120 Equipe Matra Team sponsored by ELF #9 - Henri Pescarolo (FR), Jean-Pierre Beltoise (FR) - Monaco Formula 1 Grand Prix 1970 - photo-etched parts, resin parts, rubber parts, seatbelt fabric, vacuum formed parts, water slide decals, white metal parts, other materials, assembly instructions and painting instructions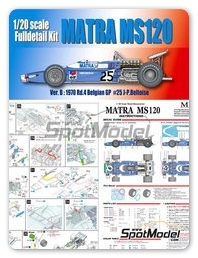 Model Factory Hiro

: Model car kit 1/20 scale - Matra MS120 Equipe Matra Team sponsored by ELF #25 - Jean-Pierre Beltoise (FR) - Belgian Formula 1 Grand Prix 1970 - Multimaterial kit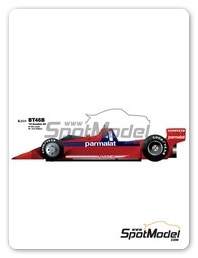 Model Factory Hiro

: Model car kit 1/20 scale - Brabham Alfa Romeo BT46B Brabham Racing Organisation Team sponsored by Parmalat #1, 2 - Niki Lauda (AT), John Watson (GB) - Swedish Formula 1 Grand Prix 1978 - photo-etched parts, plastic parts, rubber parts, turned metal parts, vacuum formed parts, water slide decals, white metal parts, assembly instructions and painting instructions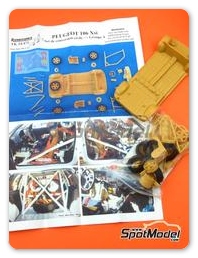 Renaissance Models

: Transkit 1/24 scale - Peugeot 106 Xsi Group A - metal parts, resin parts, water slide decals and assembly instructions - for Hachette Collections diecast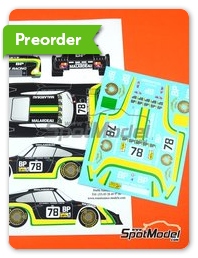 Renaissance Models

: Marking / livery 1/24 scale - Porsche 935 Kremer K3 sponsored by BP Malardeau #78 - 24 Hours Le Mans 1982 - water slide decals and assembly instructions - for Nunu reference PN24006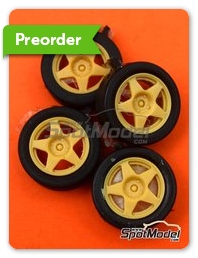 Renaissance Models

: Rims and tyres set 1/24 scale - Speedline 15 inches 5 spokes slick tyres - resin parts and rubber parts - 4 units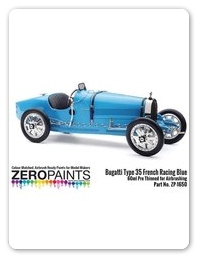 Zero Paints

: Paint for airbrush - Bugatti Type 35 French Racing Blue - 1 x 60ml - for Airbrush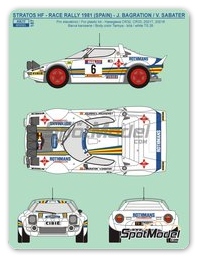 Reji Model

: Marking / livery 1/24 scale - Lancia Stratos HF sponsored by Rothmans #6 - Jorge de Bagration (ES) + Víctor Sabater (ES) - RACE Rally 1981 - resin parts, water slide decals, assembly instructions and tobacco sponsor decals - for Hasegawa references 20217, 20261, 20268, 20282, 25032, CR-32, HACR32, 25032, CR-32, HACR33, 25033 and CR-33, or Italeri reference 3654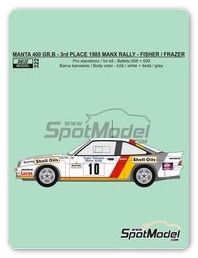 Reji Model

: Marking / livery 1/24 scale - Opel Manta 400 Group B sponsored by Shell Oil #10 - Bertie Fisher (GB) + Austin Frazer (GB) - Tudor Webasto Manx International Rally 1985 - water slide decals, assembly instructions and painting instructions - for Belkits references BEL008, BEL-008, BEL009 and BEL-009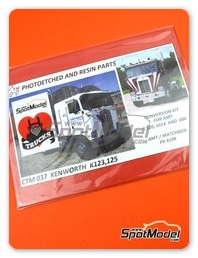 Czech Truck Model

: Detail up set 1/24 scale - Kenworth K123/125 - photo-etched parts and assembly instructions - for AMT references AMT932-6 and AMT932/6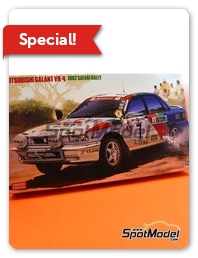 Hasegawa

: Model car kit 1/24 scale - Mitsubishi Galant VR-4 sponsored by RalliArt #7 - John Meadows (GB) + Kenjiro Shinozuka (JP) - Safari Rally 1992 - photo-etched parts, plastic parts, rubber parts, water slide decals, other materials, assembly instructions and painting instructions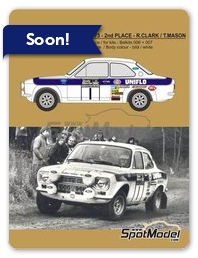 Reji Model

: Marking / livery 1/24 scale - Ford Escort RS1600 Mk I sponsored by Uniflo #1 - Roger Clark (GB) + Tony Mason (GB) - Daily Mirror RAC Rally 1973 - water slide decals, assembly instructions and painting instructions - for Belkits references BEL006, BEL-006, BEL007 and BEL-007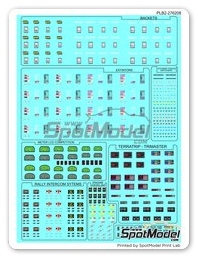 Print Lab Decals

: Logotypes 1/24 scale - Bucket seats, fire extinguisher, odometers, terratrip, tripmaster, rally intercoms, ecu, ... - water slide decals manufactured with digital technology
Copyright © SpotModel